About
"ONE PIECE FITNESS BragMen"  is The fitness gym inspired by the world of One Piece. The establishment is a reference to the Brag Men book, which is mentioned in the manga's 13th compiled volume. The book describes adventure tales from the Grand Line and introduces the Little Garden island, where the Straw Hat pirates eventually journey to. BragMen's training room will have One Piece theming, and the trainers will be dressed as naval officers.


Visitor
At BragMen, we have a "use system" that allows you to use the gym on a one-time basis.
There is no registration fee, and you can use it without becoming a monthly member.
It is recommended for those who live far away and who do not use the facility frequently, or for those who want to experience the facility.

■Facility usage fee once 3,850yen. (up to 5 hours) 
■Business hours: mon-fri 6:30〜23:30,sat 8:00〜19:00,sun8:00〜18:00 
■There is no advance reservation. Please visit the facility directly.
■Proof of Identification Required
(Valid driver's license, health insurance card, passport, or certificate of residency)
Individuals who are not Japanese nationals must present a passport or alien registration certificate. We will also make a copy of the ID.

Important Notices
Please note that we may not be able to accommodate your requests due to congestion.
Please be aware that filming is prohibited in the gym.
Minors (under 18 years old) must be accompanied by a parent or guardian.
Shoes are not allowed inside the gym. We kindly ask you to wear the provided specialized shoes for your usage.
We offer shoe rentals at a rate of 500 yen per pair (excluding tax).
Please inform our staff of your shoe size so that they can assist you with the rental process.
Location / Access Guide
Shibuya MODI 9F
Business hours:

mon-fri 6:30 〜 23:30, sat 8:00 〜 19:00, sun 8:00 〜 18:00
Address:

1-12-20, Jinnan, Shibuya-ku, Tokyo 9F BragMen
Telephone:
Access from JR Yamanote Line,Tokyo Metro Line and Inokashira Line shibuya Station.
9F BragMen About Entering the Store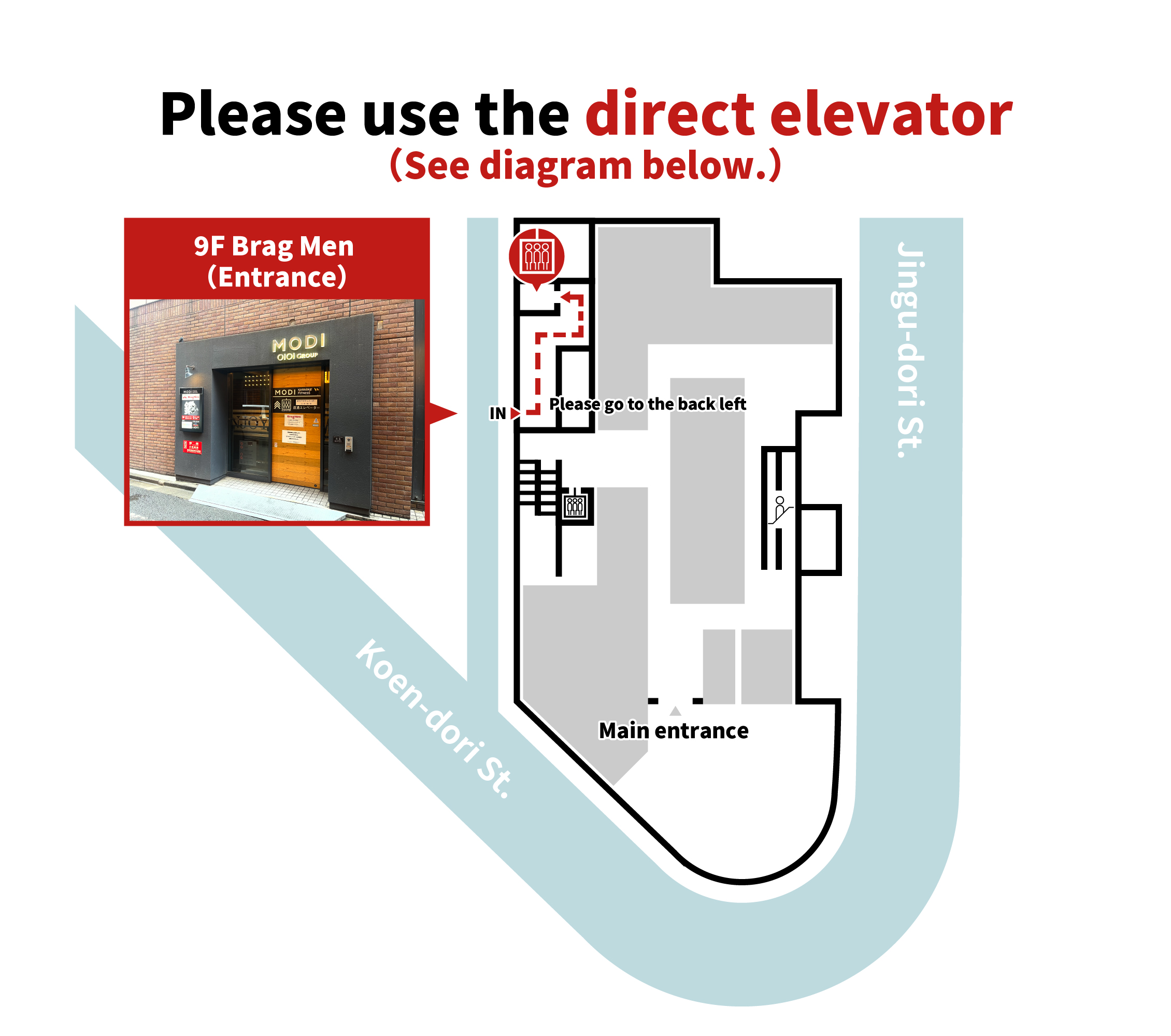 ※Elevator in the building is available between 11 AM and 8 PM.
Shopping
We are unable to ship overseas, so if you are visiting from overseas, please purchase locally.
payment methods
At our store, payment is possible by credit card and cash.
Key visual T-shirt

 

JPY 3,850

Kid's T-shirt(white)

 

JPY 3,520

Kid's T-shirt(black)

 

JPY 3,520

Kid's T-shirt(red)

 

JPY 3,520

Gum Gum Shooting Release Gun

 

JPY 14,300

Original Exercise Pole

 

JPY 6,050

Protein Shaker

 

JPY 1,485

Whey Protein

Cocoa Island Chocolate Flavor(900g)

JPY 3,980

Whey Protein

Wano Country Oshiruko Flavor(900g)

JPY 3,980

Whey Protein

Jaya Island Cherry Pie Flavor(900g)

JPY 3,980

Backpack

 

JPY 1,375

Original Towel

 

JPY 2,200